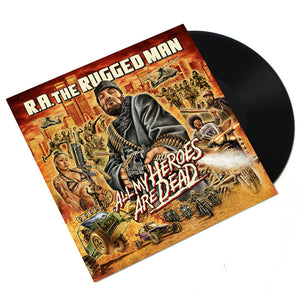 R.A. The Rugged Man
All My Heroes Are Dead (Vinyl 3LP)
R.A. The Rugged Man is one of the most fascinating figures in hip-hop history. The Rugged Man has been an up-and-coming star, an industry outcast banished and forgotten, an underground cult hero, an independent success story, and an influential master of the art form. He can dismantle rappers with ferocious battle rhymes, craft heartfelt personal songs fans can relate to, challenge corrupt politicians and corporations, paint pictures with captivating storytelling, and deliver jaw-dropping flows that prove his lyrical skills are unmatched. Now, R.A. is back with All My Heroes Are Dead, a brand new album that stands as his best work to date. "So many of the greats are gone, and the legends who made it out alive are cast aside," R.A. explains. "We have to bring that greatness back with a vengeance." The highly-anticipated album showcases the full scope of the Rugged Man's considerable talent, making it a powerful statement from an unforgettable artist.

1. All My Heroes Are Dead (The Introduction)
2. Legendary Loser
3. Golden Oldies (feat. Slug of Atmosphere and Eamon)
4. Wondering (How To Believe) (feat. David Myles)
5. Dragon Fire (feat. Ghostface Killah, Masta Killa, Kool G Rap and Xx3eme)
6. All Systems Go
7. Cancelled Skit
8. Angelic Boy
9. Gotta Be Dope (feat. A-F-R-O and DJ Jazzy Jeff)
10. First Born (feat. Novel)
11. E.K.N.Y. (Ed Koch New York) (feat. Inspectah Deck and Timbo King)
12. Hate Speech
13. Living Through A Screen (Everything Is A Lie) (feat. The KickDrums)
14. Contra-Dictionary
15. The Slayers Club (feat. M.O.P., Vinnie Paz, Chris Rivers, Onyx, Chino XL, Brand Nubian and Ice-T)
16. Life Of The Party
17. The Big Snatch
18. John John Skit
19. Who Do We Trust? (feat. Immortal Technique)
20. Malice Of Mammon (feat. Chuck D of Public Enemy)
21. Sean riP (Interlude) (feat. Shaun P)
22. The After Life (feat. Sarah Smith and Kelly Waters)
International prices do not include customs charges.  Expect to pay import duties for orders outside the US.

In-stock orders ship within 5-7 business days of purchase.  The shipping class you select has no impact on order processing time (selecting "Priority Mail" will not get your order shipped faster).  We do not offer rush processing.

Estimated pre-order ship dates are listed on the order page.  Pre-order ship dates are subject to change.  If an order contains both pre-order and in-stock items, we will wait until all items are available before shipping your order.  If you prefer multiple shipments, please place separate orders.  You will receive a shipment confirmation email with tracking information once your order ships.  Please note it often takes a few days for the tracking number to appear in the USPS tracking system.

USPS Media Mail does not include insurance.  If you select this shipping method, we are not responsible for damage caused by USPS during shipment.  To ensure protection in the case of damaged shipments, please select USPS Priority Mail, which includes insurance.

If you are located outside the U.S. and select USPS First Class Mail International as your shipping method, tracking is extremely limited and no insurance is included.  Shipments can take up to 6 weeks to arrive (or longer in some cases), and often go several weeks in transit without any tracking updates. Packages are scanned when leaving the U.S., and are often not scanned again until delivery. Due to the limited tracking, USPS does not accept inquiries for this service and we cannot check on the status of a shipment. Since this service does not include insurance, we assume no responsibility if your shipment is lost, returned to us, or arrives damaged. Additional fees apply for re-shipments.  USPS Priority Mail International shipments arrive within 10 business days and include full tracking and insurance coverage.

All sales final.  No refunds or returns accepted.  Any problems with an order must be reported within 2 weeks of delivery (or within 3 months of shipment for undelivered orders).  We cannot assist with any issues reported beyond this time frame. If your order is damaged, please keep the shipping box and all packaging material, as this evidence will be required for filing a shipping claim. If original packaging is discarded, we cannot file a shipping claim, and you may be responsible for re-shipment costs.
---
More from this collection