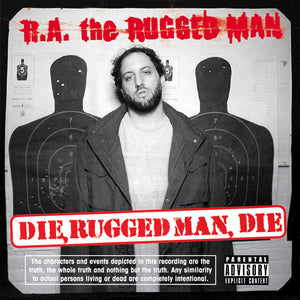 R.A. The Rugged Man
Die, Rugged Man, Die (MP3)
When R.A. The Rugged Man dropped his first album, it seemed like he'd been around for years…and, well, he had. R.A.'s storied background includes joints with Mobb Deep and The Notorious B.I.G. in the early 90's, but until this 2004 masterpiece, he had never released a proper album. Finally, R.A. blessed us with Die Rugged Man Die, a 13-track opus from one of the craziest cats in the game. For anyone who wondered whether the Rugged Man could deliver on a full-length album, Die, Rugged Man, Die officially put those doubts to bed for good.
1. Lessons
2. Casanova (Fly Guy)
3. A Star Is Born
4. Chains (feat. Killah Priest & Masta Killa)
5. Dumb
6. On The Block
7. How Low
8. Mitch Blood Green (Interlude)
9. Midnight Thud
10. Black And White (feat. Timbo King)
11. Brawl
12. Die, Rugged Man, Die!!
13. Pick My Gun Up (Skit)
14. Da Girlz, They Luv Me
15. Make Luv Outro
International prices do not include customs charges.  Expect to pay import duties for orders outside the US.

In-stock orders ship within 5-7 business days of purchase.  The shipping class you select has no impact on order processing time (selecting "Priority Mail" will not get your order shipped faster).  We do not offer rush processing.

Estimated pre-order ship dates are listed on the order page.  Pre-order ship dates are subject to change.  If an order contains both pre-order and in-stock items, we will wait until all items are available before shipping your order.  If you prefer multiple shipments, please place separate orders.  You will receive a shipment confirmation email with tracking information once your order ships.  Please note it often takes a few days for the tracking number to appear in the USPS tracking system.

USPS Media Mail does not include insurance.  If you select this shipping method, we are not responsible for damage caused by USPS during shipment.  To ensure protection in the case of damaged shipments, please select USPS Priority Mail, which includes insurance.

If you are located outside the U.S. and select USPS First Class Mail International as your shipping method, tracking is extremely limited and no insurance is included.  Shipments can take up to 6 weeks to arrive (or longer in some cases), and often go several weeks in transit without any tracking updates. Packages are scanned when leaving the U.S., and are often not scanned again until delivery. Due to the limited tracking, USPS does not accept inquiries for this service and we cannot check on the status of a shipment. Since this service does not include insurance, we assume no responsibility if your shipment is lost, returned to us, or arrives damaged. Additional fees apply for re-shipments.  USPS Priority Mail International shipments arrive within 10 business days and include full tracking and insurance coverage.

All sales final.  No refunds or returns accepted.  Any problems with an order must be reported within 2 weeks of delivery (or within 3 months of shipment for undelivered orders).  We cannot assist with any issues reported beyond this time frame. If your order is damaged, please keep the shipping box and all packaging material, as this evidence will be required for filing a shipping claim. If original packaging is discarded, we cannot file a shipping claim, and you may be responsible for re-shipment costs.